BiznesFon POTS
solution targets small and medium enterprises and area units of larger companies. If the enterprise has direct analogue lines, without a telephone exchange, it's possible to get BiznesFon services using IP phones.
There is a possibility traditional fix number from current numbering area or non-geographical number AB=39 with the BiznesFon service.
By implementing BiznesFon in all units of the enterprise it is possible to have free connections with headquarters or other offices of the company.
Using internet access also for voice transmission, a BiznesFon subscriber can cancel traditional landlines and save money spent on monthly fees whilst getting much lower rates for traffic.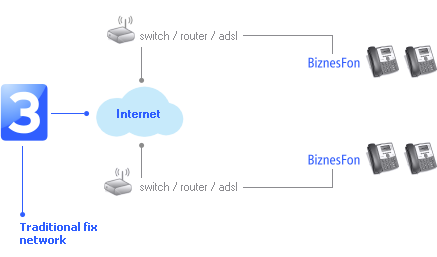 Technical specification Linksys SPA941-EU
One of the most advanced IP phones on the market. In standard equipped 2 independent, separate SIP accounts (It's possible to expand up to 4 BiznesFon accounts). Ergonomic, with all possible functions in this type of equipment, perfect for office application without detriment to the users.

Linksys SPA941 users can benefit in:
| | |
| --- | --- |
| | Restricting selected incoming calls |
| | |
| --- | --- |
| | Built-in web server for phone management |
To get the best quality of calls using VOIP technology a company needs to have the minimum band of Internet access. Using default settings, the minimum speed is 36kbps for one call.